First Step Preschool & Childcare
Establish a sound foundation for your child's future
Preschool
Our goals at First Step Preschool are to help establish a sound foundation for your child's future years. A wide range of developmentally appropriate activities and experiences are planned for your preschooler.
We believe children enjoy learning and through our preschool program, your child will have a head start in educational experiences.
We invite you to learn more about us and come visit our classrooms.
Childcare
We also offer Childcare. Offering Preschool curriculum for ages 3-5, and childcare options from ages 16 months-7 years. First Step Preschool has been serving the Elk River area for 30 years.
Social and Emotional Growth
Playtime is an important period of time when children are interacting with each other and their teachers. During this time, we help children learn how to use their words while problem-solving. We help them learn how to become less self-focused and encourage them to take part in small and large group activities.
Physical Development
We help our students develop their small muscles while using scissors, crayons, and manipulatives such as building with small blocks and stringing beads. We provide the opportunity to develop students' large muscles with a variety of toys and activities both in our large muscle room and in our outdoor playground.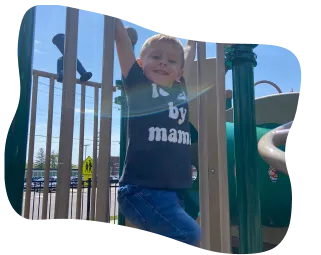 Academic Experiences
First Step uses Visual Phonics to teach our students letter and sound recognition. We use the EZ Write program to teach writing. Our learning program is also extended with science, concepts, and language activities throughout the day. Singing and dancing are often used to help reinforce academic learning.
Creative Play
Creative play allows each child to make choices in the area they would like to play. This helps to increase their self-confidence, communication skills, and their ability to play with other children. We use our Puppet Theater, Play Kitchen, Market Place, and Pizza Parlor along with other areas to provide a variety of opportunities for Creative Play.